8th January, 2022
It has been a busy first week back for Tidy Design, lots of emails, calls and discussions about the New Year ahead. We also received a new enquiry (thank you Google SERPs), and are back on the blogging and social media train. One of our goals for 2022 is to be more proactive with our content marketing. So all in all a productive week…
Google My Business 2022
In this post let's look at adding products to your Google My Business page, and why this is important. Personally, I think Google is great for obtaining new business. That said; what they offer as free today, they can put a price tag on tomorrow! Google My Business currently offers many free features, a few of these get covered in this earlier blog post.
Adding products
To summarise you can list merchandise, virtual inventory (things like software) and services on your Google My Business page. If you'd like to dig deeper and find out if your business is eligible for products then, please click here. From what I have seen and read, Google is ok having both products and services listed, so you can do both. The mission or end-goal is more coverage and visibility in Google's SERPs (Search Engine Result Pages), thus boosting online business.
How to Add products
When adding a product to Google My Business you will need a product image, product name, category, price, description and a button/link (call to action). Step one will be signing into your Google account and accessing the Google My Business profile manager. This is where your business info and data is managed. If you need any help with this then please let us know, we'd be happy to help.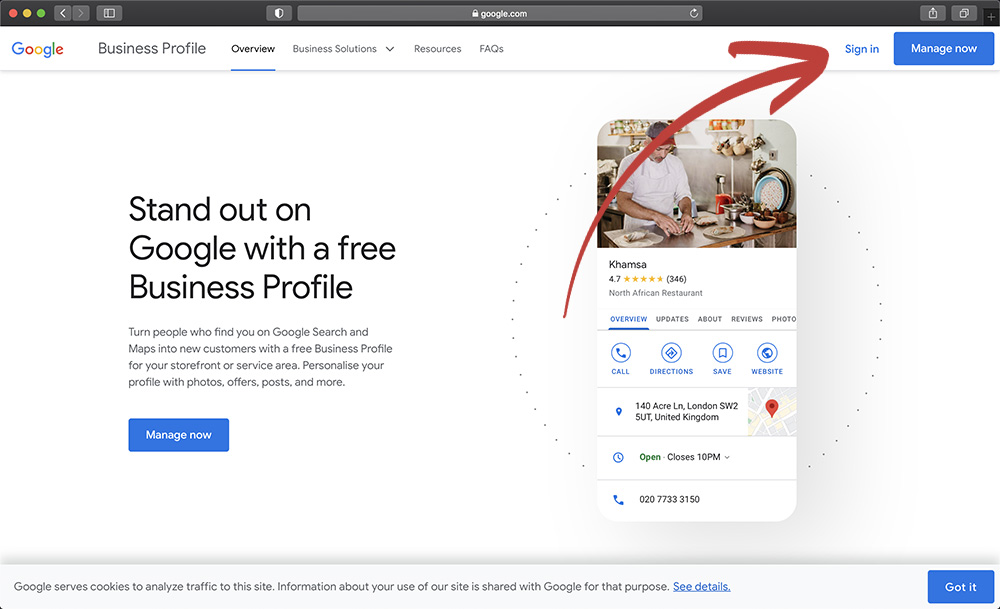 From here you can navigate to your business listing and click on "Products"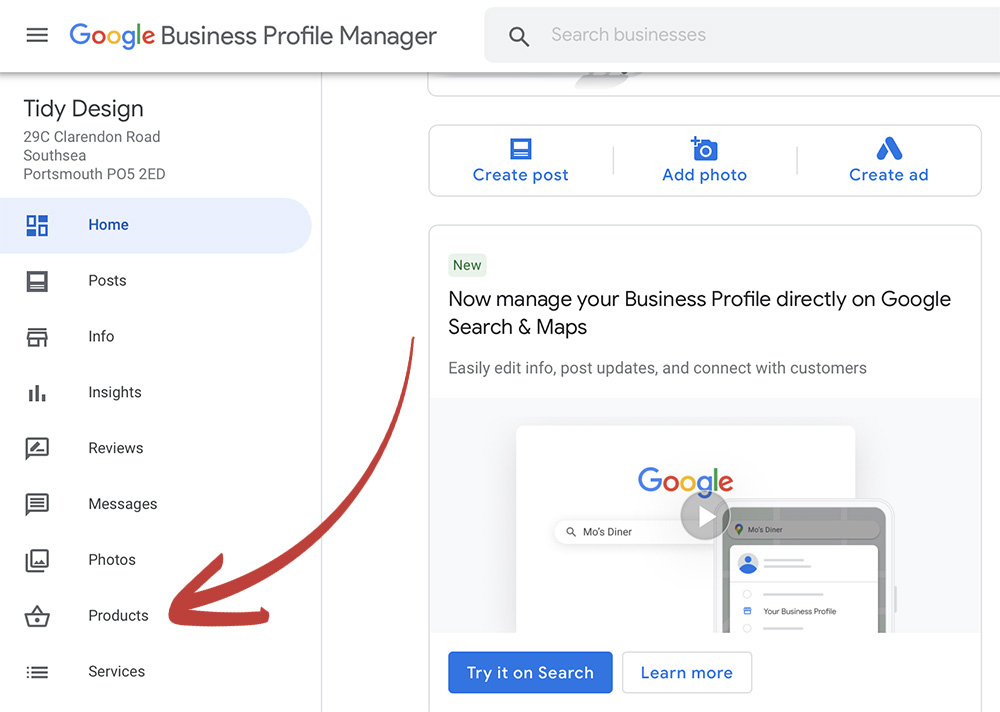 You will now be prompted (if it is your first time adding a product) to "Get started". If products have already been added then at the top of this page you will see an "Add product" button, allowing you to add more. Please note you can click on an existing product to view/edit/improve data, be it pricing or a new photo.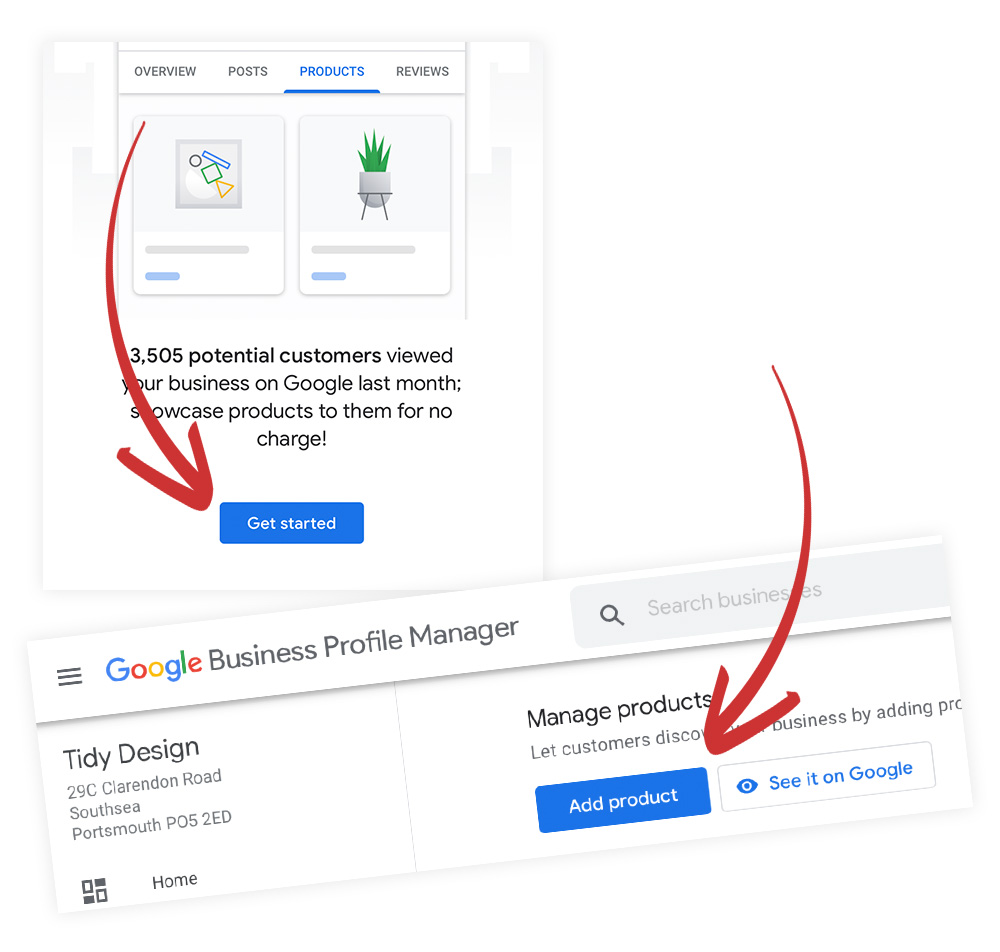 Adding a product is very easy and also free (for now), simply follow on-screen instructions and make sure everything is checked and triple checked prior to pressing "Save". You can add multiple products and categories to Google My Business.
The image you upload should ideally be 1200 x 900 and clearly represent the service or product you are adding. Avoid using stock photos, keep it original if you can. A product description can be up to 1000 characters, so make the most of it. Product descriptions are the perfect place to talk about whats on offer. Why not list out your Unique Selling Points (USPs), tell people how great your service or product is.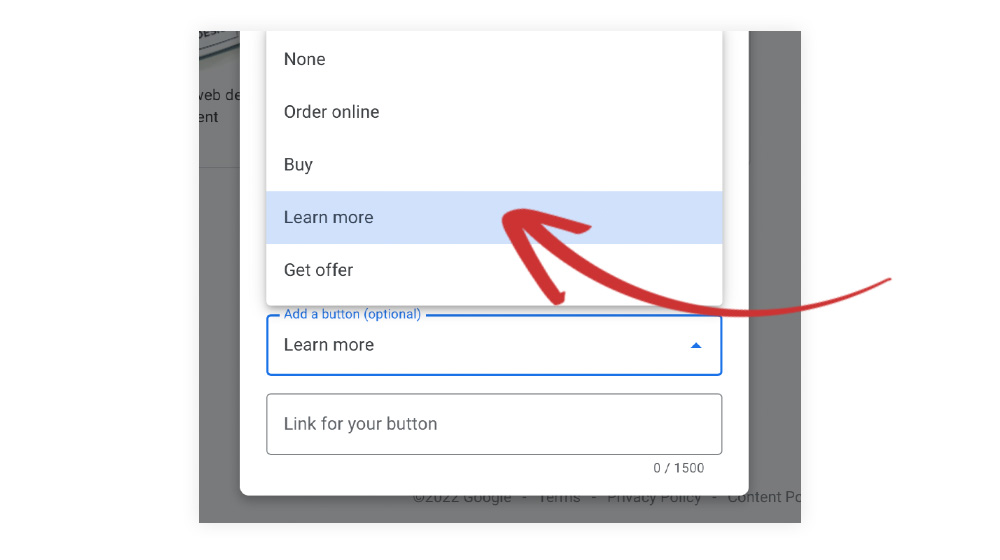 At the very end of this form you will see an optional "Add a button" box. If you are linking to a service or info page then the "Learn more" button is advised. Your other options are "Buy", "Order online", or "Get Offer". You should not really leave this blank, at the end of the day you want this button to take a customer to your website.
Remember to check over your product data prior to pressing "Save", then within minutes to a few hours, this should appear on your Google Business profile. To see if this has worked you can simply search for your business name on Google (maybe include your location if Google is a bit confused), this should display your company info with "Products" featured below.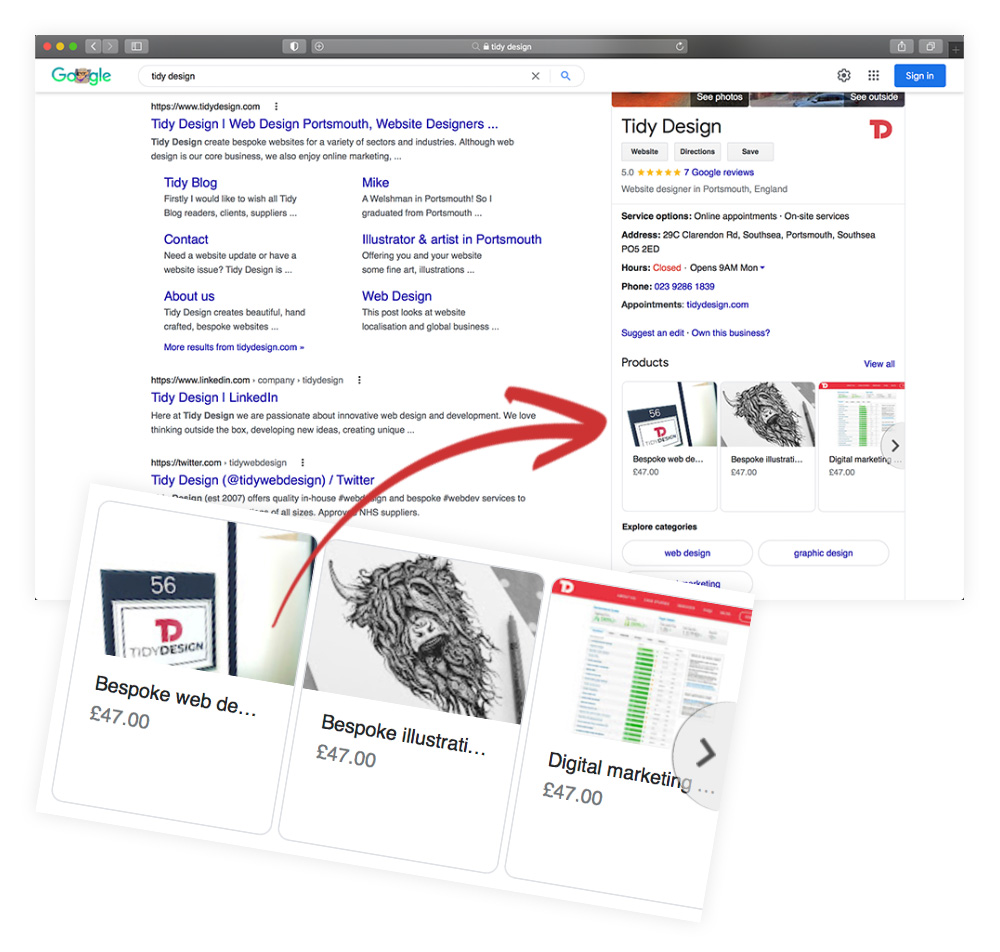 Having this box ticked in 2022 from an SEO and digital marketing perspective is advised. Your Google My Business listing will likely look fuller than your competition, and also more appealing (especially if you invest in some decent photos).
Think of Google's SERPs as a shop window, adding that little bit extra could make all the difference! If you can encourage users to visit your website then surely this is a good thing? Why not experiment with Google My Business products in 2022? Here's to making your website stand out from the crowd, increasing traffic and generating lots of new enquiries – good luck!
I hope you enjoyed this post, until next time, keep it Tidy!
Mike