14th December, 2010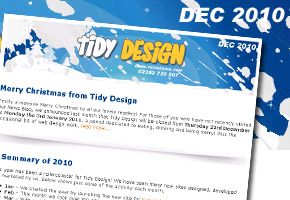 Tidy Design has just sent out its Christmas / New Years newsletter to all our awesome clients! If you fancy taking a look at what Tidy Design has been up to in 2010, or maybe checking out our plans for 2011, please click here!
So, a little over a week remains to get on-top of all commissioned web design work, client updates and marketing campaigns… I must say, starting a new year is both exciting and daunting for us, 2010 has been such an amazing year… it will be a hard one to top!
For now, our thoughts and energy are focused on mince pies, wine and turkey… This is our finish line for 2010! Like many businesses out there, Tidy Design is truly grateful to see growth as a company during these tough economic times. We are also delighted to have new and exciting projects already pencilled in for Jan / Feb 2011!
Thanks again to all who chose Tidy Design for web design, graphics or marketing work in 2010. We hope in 2011 we will get the chance to do business with you again.
If on the other hand you are shopping around for different web companies or new suppliers for 2011, then we hope you like what you see? Please feel free to email over any questions or post your comments below, we will do our best to get back to as soon as possible.
Wishing you all a Tidy Christmas and a Happy New Year!