13th November, 2010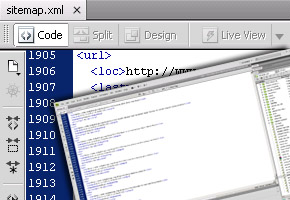 On so many occasions I have emailed or spoken to clients referring to a sitemap.xml, today I thought it was about time I wrote a tidy blog post about them!… So, what is a sitemap.xml and why do we mention them to all our clients?
Well, if you have a website you will (nine times out of ten) want it to appear on the first page of Google for relevant keywords or key phrases.
To help speed things along with Google (and the other search engines) a sitemap.xml allows us to inform them about all URLs (web pages). By creating and submitting a sitemap.xml search engines will be able to crawl more thoroughly through your site extracting page information. It is this page information and how the search engines digest the data that will help determine your SERP (Search Engine Results Page).
The Sitemap Protocol was established back in 2005 by Google to help web developers create more search engine friendly websites. The format consists of XML tags, so these look something like:
<?xml version="1.0″ encoding="utf-8″?>
<urlset xmlns="http://www.sitemaps.org/schemas/sitemap/0.9″>
<url>
<loc>http://www.tidydesign.com/blog</loc>
<lastmod>2010-11-13</lastmod>
<changefreq>daily</changefreq>
<priority>0.8</priority>
</url>
</urlset>
Today Tidy Design manages multiple Sitemaps using Google Webmaster Tools, here we can login, check the indexing status, crawl rate, see when a sitemap.xml was last crawled and if any errors got detected. At Tidy Design we believe updating a sitemap.xml is very important for SEO (Search Engine Optimisation), especially when new pages are added or removed.
I hope the above has helped explain why we create and submit Sitemaps, if you have any questions then please feel free to email or comment below: