1st March, 2020
Exactly two weeks ago I reached out to a dozen or more celebs on twitter. I wanted to promote a few of my "tainted love" Sea Life Art illustrations. I guess you could compare social media marketing to going to the gym. You get out what you put in, and you need to have a strategy. Something else to consider here is consistency, it may take many weeks, months or even years to see results…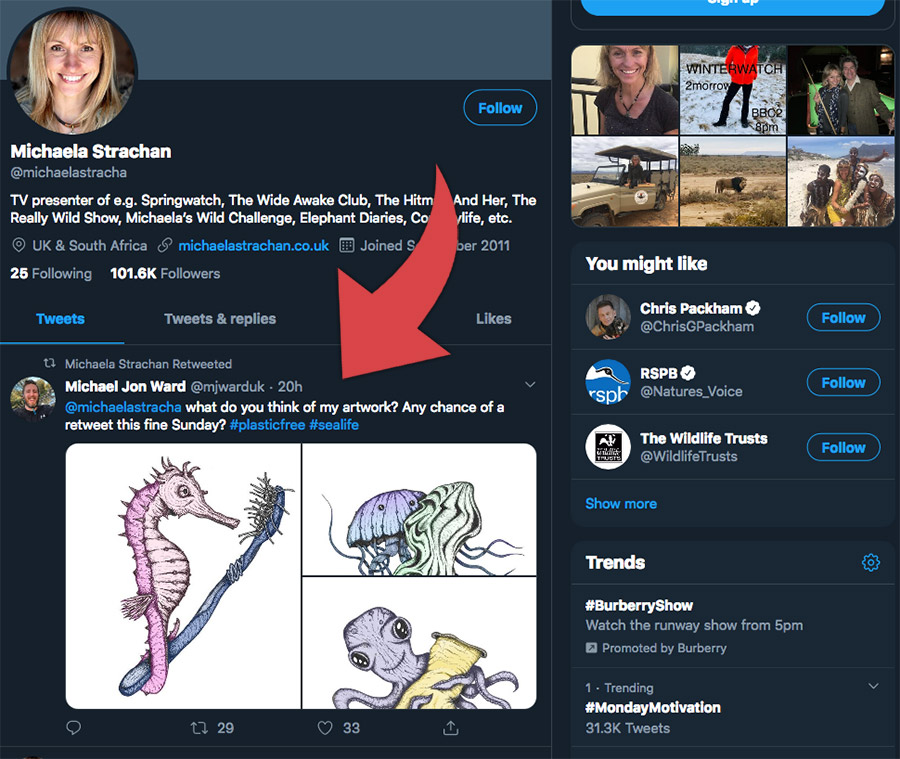 Anyway, back to these tweets of mine. I must say thank you again to Michaela Strachan, she kindly retweeted my "tainted love" artwork to her 101K followers. This provided some great coverage, feedback and data for review.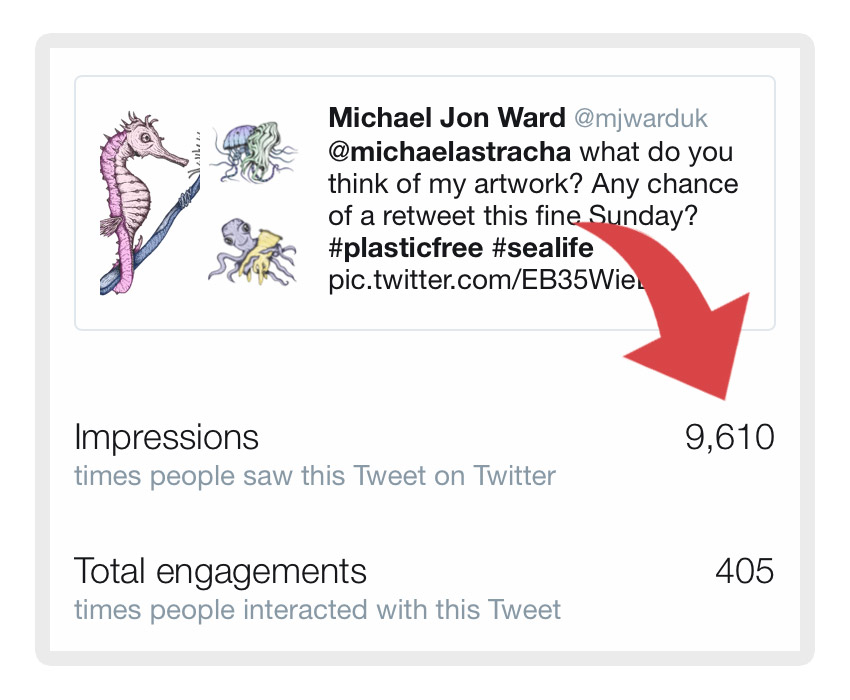 Above shows 9.6K impressions over a two week period, a lot of eyes on my artwork!
So what can we learn…
I recently had a meeting with a client of ours, we discussed his 2020 digital marketing plans and use of social media platforms. I decided to show him some twitter data assigned to this retweet, he was impressed! We then looked at influencers in his industry, and discussed alternative ways of using his own social media accounts. A lot of people post content and leave it as that, maybe 2020 is the year we all reach out…
Marketing a business via social media
Here is a question; is it easier to market a business (or an idea) in todays world, with all of us glued to our smartphones and social media accounts. Personally I think there is more opportunities today than say 10+ years ago. However the web and its social platforms are very saturated, so it's not enough to have an account and post now and again.
The effort required is certainly higher than people think. It is difficult to produce engaging and unique content, let alone make it stand out amongst the crowds. My Mum was super proud of this retweet from Michaela Strachan, but I did have to remind her that I have done this exercise hundreds of times before with no success.
I believe the key here is consistency and not giving up when you see little (or no) reward. I once read a business quote, it went something like "when selling, you must knock on the hundredth door with the same enthusiasm as the first door, even if you've had ninety nine doors slammed in your face!"
So can social media boost brand awareness and/or help grow a business? I believe so, but choose your social platform and content wisely, plus make a note "this is going to be challenging and take time!"
Need help with social media?
If you would like a review of your social media accounts or posts, then please give Tidy Design a call or email. We'd be happy to brainstorm ideas and help produce unique content for you. Why not check out what your competitors are doing on Instagram, LinkedIn, Facebook, Twitter, Google My Business etc… Some questions to ask; how often are they posting content? Is their content informative? What kind of social media content are they posting? What days / times is content being uploaded?
I hope you enjoyed this post? Why not check out our 2020 Digital Marketing Tips for more ideas! Until next time, keep it tidy…
Mike