29th March, 2011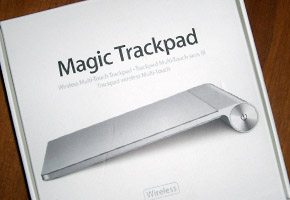 Just a quick blog post to comment on how awesome the Magic Trackpad is to use! Ok, it uses the same multi-touch technology as the MacBook Pro however it is slighter bigger. And if like me you are used to having a mouse positioned to the right of you most days, then a Magic Trackpad is the ideal replacement!
With nearly 80% more surface area, it's the largest Multi-Touch trackpad made by Apple, well worth the investment if you enjoy clicking, scrolling and swiping away the day!
A Magic Trackpad supports a full set of finger tip gestures including two-finger scrolling, pinching to zoom, rotating with your fingertips, three-finger swipes, switching between applications with four fingers… It is just so cool, ideal for people who need to work fast and efficiently.
Ok, rant over its time to get back to some web design and graphics work… Until next time, have a great week and enjoy the arrival of Spring 2011.