29th August, 2010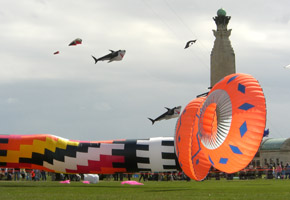 The bank holiday weekend has been very busy for Tidy Design, and it is not over yet! Ok, we have done a little bit of web design work however this weekend our mission is to chill out and re-charge! Yesterday was a lovely day, Rosie and I met up with some friends at the Queen Elizabeth Country Park, for a small fee you can hire a BBQ in the forest and become one with nature!
Today we walked miles and stumbled across an international kite festival. If you follow me on twitter (twitter.com/mjwarduk) you will see a couple of photos I posted of The Kite Society of Great Britain in action. The show they put on was very impressive and the breezy / sunny weather resulted in a massive turnout for the event. Ok, my wife and I don't own a kite or know much about the sport / hobby however it was a visual delight! We bumped into some friends buying a kite for there young child from one of the many marquee stalls… The faces of young children seeing kites above their heads the size of houses, shaped like sharks, monkeys and reptiles etc created a great atmosphere.
So to conclude, living in Southsea, Portsmouth has many advantages for individuals, families and businesses. Almost every weekend something different is going on at Southsea common, Gunwharf Quays or Portsmouth Harbour etc
Portsmouth has had a massive impact on my life! I came down to Portsmouth in 2002 to study at its University… I later met my wife whilst working for Portsmouth Uni… The brand / idea of Tidy Design started in Portsmouth… I even learnt to drive in Portsmouth! So a lot has happened since I arrived at Southsea train station with one bag on my back and some savings in the bank! Over the years it has become a great home and the perfect location for our web design and marketing business.