18th May, 2012
Promoting your business effectively online via a carefully orchestrated SEO campaign has never been more crucial for small businesses than it is in today's highly competitive market place.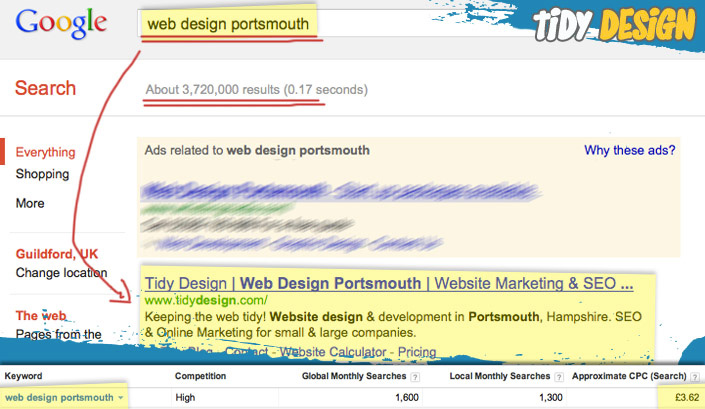 With constant changes and improvements being made to Google's search algorithms, be it a Google Panda or Google Penguin update, I predict the cost of quality SEO will rise due to the level of work needed to obtain these quality results… That said, the cost of SEO should really depend on the keywords you target and competition you are up against, SEO does not always need to cost the earth!
SEO (Search Engine Optimisation) is all about focusing on particular keywords (the phrases people type into Google, Yahoo or Bing) in order to use these to attract increasing numbers of customers to your website. Directing customer traffic successfully to your business website ultimately leads to greater financial rewards for your company or enterprise… With this in mind, it is important to target the correct keywords for your business / sector, those that will generate a return on investment.
By focusing on the SEO of your website, Tidy Design can help your business to target specific key phrases online. We work closely with you to provide highly professional SEO expertise within a reasonable budget for your business.
With any SEO campaign, it is vital to offer visitors quality content and some form of link bait. At Tidy Design we offer the in-house content writing services of a professional author who can provide tailor-made content to meet your exact specifications.
With all SEO work completed in-house by a small team of Tidy dudes, we are perfectly setup to make a difference to your business. Why not contact us today to find out more about how we can help you're business grow online.