16th September, 2010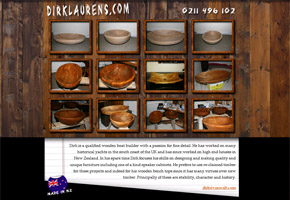 So, what would it cost you for a single page website to promote your business or idea online? This is a good question and it will depend on your requirements, if you are looking for something simple then the cost should reflect this. On your right you will see one example of a bespoke single page website we designed for a carpenter in Wanaka, New Zealand. This web page has a selection of photos, a contact number and email, a bit of information about the business… How it is designed (coded) allows us to add a new page, gallery or information without that much effort… Ok, we would need to design and incorporate a navigation however the general design (code) is already in place!
If you have a new business or idea that you are looking to promote on the World Wide Web then why not start off with a single web page, this can soon be developed into several as your business or idea expands. The message Tidy Design would like to get out to start-ups is this, websites don't have to cost the earth! You can find affordable website hosting (Our packages start at just 50 GBP per annum) and you can get a basic web page designed and online within a short space of time! Think about the message you want to get across, think about the product or services you offer, make sure the web page reflects your company identity and is consistent (in terms of design) with any flyers, business cards or posters… Think logo, think contact number, and think what can I say to get people who find my web page to contact me? What is your unique selling point and how can you get this message across in a split second?
If you are looking for a fun, unique and tidy little web page then why not contact Tidy Design for more details about the services we offer.