27th July, 2011
Following on from our last blog post and the development of our FREE Backlink Checker I thought I would write a quick post about Page Authority, another popular term used in the world of SEO.
Page Authority (also known as PA) is a prediction… Imagine looking into a crystal ball to see if (or how likely it would be) a single page / domain will rank well in the future. Unlike your typical crystal ball, Page Authority does take into account certain factors / data to calculate a score… The higher a Page Authority, the greater the chance that page will rank well in Google's SERPs (Search Engine Result Pages).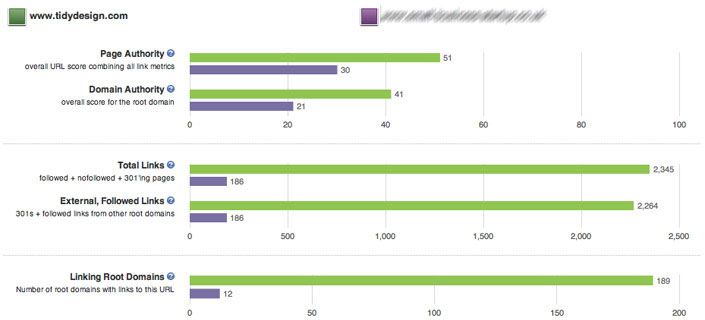 Above I have compared Tidy Design with one of our many web design and SEO competitors in the Portsmouth / Hampshire area.
The system we use to check Page Authority gives us a mark out of 100, using a logarithmic scale, making it easier to grow your score from 15 to 20, than it would be to push it from 65 to 70! Tidy Design will sometimes look at Page Authority when carrying out research for our SEO Campaigns to determine which site/page offers the best quality backlink! Remember, a link from a page with a low Page Authority won't help you as much as a link from a page with a high Page Authority!
Yes, we live in a competitive world, and finding these quality links is not easy! Take web design or SEO as an example; there is so much competition out there that freelancers / web companies do need to work extremely hard just to compete, let alone boost their own Page Authority!
Whatever sector you are in, without the right SEO strategy, your website is unlikely to be seen! Please feel free to post your thoughts, comments or ideas on Page Authority below. We would love to hear from you!