11th March, 2013
Search engine optimization or SEO is the process of focusing on particular keywords – the phrases users type into search engines such as Google, Yahoo or Bing – then using these to attract unique visitors to your website. This in turn helps you to generate new business.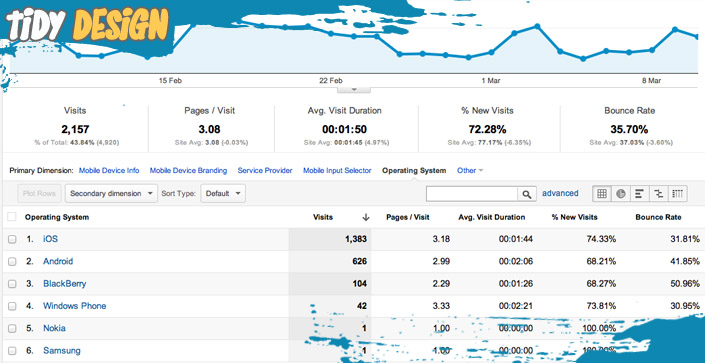 Today, vast numbers of customers are accessing websites using their mobiles, net books and tablets, using a wide range of browsers.
Mobile searches have increased exponentially in recent years and Google have introduced a Smartphone Googlebot as a direct result.
When it comes to ensuring that visitors to your website enjoy the best possible experience of your company, intelligent responsive web design has never been more important.
Ensuring that your business website is able adjust and adapt instantly to meet user needs, by offering a responsive website that automatically changes to fit the device it is being read on is essential in today's highly competitive business world.
So have you considered how best to make the most of mobile search engine optimization, to ensure that your organization is able to compete effectively in the market place?
Remember, it is important to ensure that your mobile search presence actively drives customer traffic towards your business, increasing opportunities to engage with potential clients, while raising your online profile.
It is interesting to note that the keywords used for search purposes by a mobile audience may differ from the specific keywords already in use on your desktop site.
We therefore highly recommend researching your closest competitors sites, together with a careful analysis as to how certain keywords inform mobile searches as a precursor to creating a great mobile SEO campaign strategy.
A mobile site architecture that targets certain specific keywords then optimizes them on internal pages is ideal.
Google needs to crawl pages assets, such as images, CSS and Javascript, in order to recognize that a site is using a responsive web design approach.
Using the 'm' subdomain for your mobile site keeps the URL structure short and user-friendly and enables filtering of subdomain traffic.
Tightly defining your target audience, then creating mobile content that is highly relevant to their specific needs will assist greatly when it comes to conducting a truly successful mobile SEO campaign.
Here at Tidy Design we love to assist all our customers in achieving the best possible search results for their sites. So if you aspire to achieve great Mobile SEO why not contact us today to find out more? We would love to hear from you!
Kerry McPhail