11th August, 2012
Are you in the construction industry and looking a website? Creating a bespoke website specifically designed to meet the precise individual needs and requirements of our clients is of vital importance to us all at Tidy Design.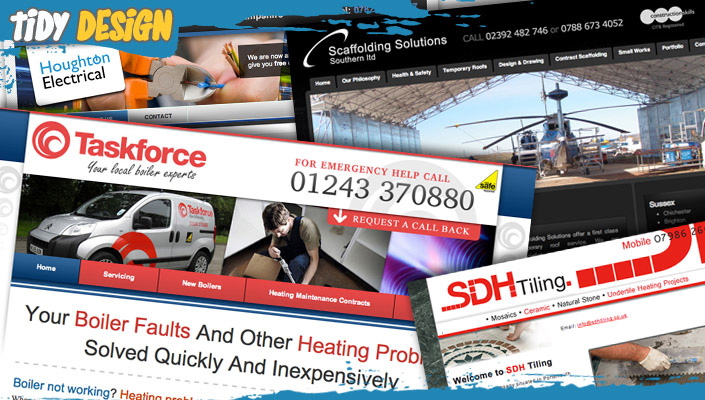 Over the years Tidy Design have enjoyed many opportunities to work with clients in the construction industry.
Designing websites that showcase our customer's skills, training and professionalism as well as indicating clearly the range of services they offer is essential to building a great online presence.
Often customers call on a boiler repairman or electrician in an emergency situation. Therefore having user-friendly content backed by testimonials and trade credentials all helps to build customer confidence in using your services… Plus you should ideally be page one of Google!
Creating a great online customer experience via easy to use navigational tools and clear concise content means that your customers will return again and again to use your services, as well as recommending your company to friends and family too.
Incorporating social media links into your website enables you to easily advertise your services online too, helping to build up your presence on the web.
Why not consider an SEO (Search Engine Optimisation) campaign and help raise the online profile of your company's products and services even further? Tidy Design conduct all their SEO campaigns in-house, and also offer the services of a professional author. Creating compelling, informative content that your customers will love to read helps generate valuable customer traffic to your website.
So to conclude, if you are in the construction industry and looking for a website then why not contact us today? We look forward to hearing from you.
Kerry McPail