10th March, 2022
Here at Tidy Design, we host a number of different websites for many clients, spanning across multiple sectors. Our hosting packages vary, catering for NHS resources, larger e-commerce websites, and single page brochure sites. The kind of website you have will impact the kind of hosting you require, this is important to note when shopping around for a hosting provider.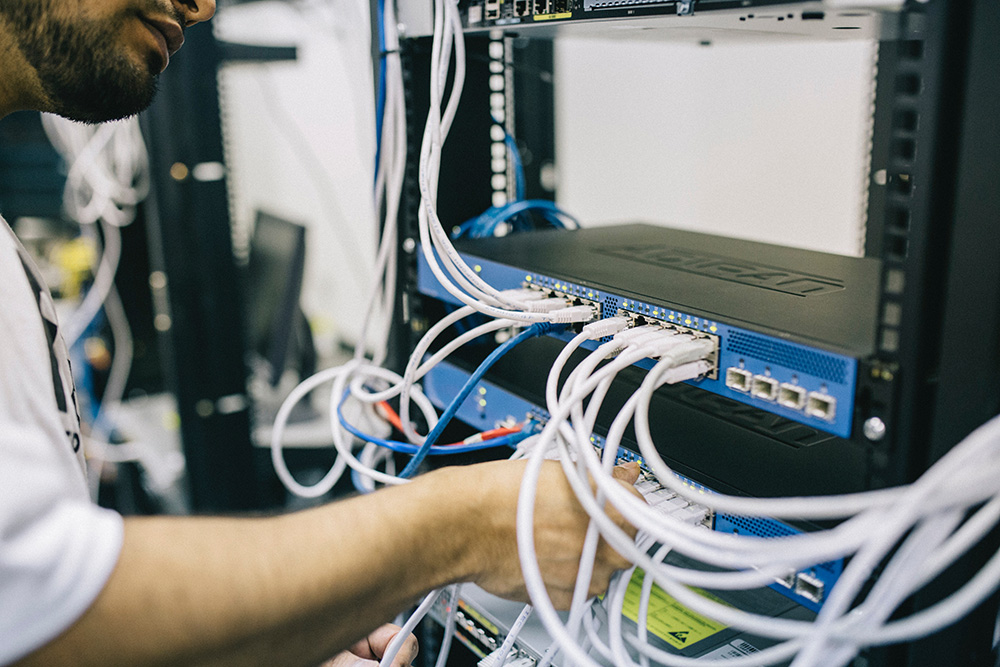 Over the past few weeks we've had a handful of companies come to us with website hosting issues. That's why we've decided to write this post, to pass on our thoughts and considerations regarding a collection of hosting topics. Hopefully this post helps shed some light on a complex service that all website owners encounter.
Wherever you decide to host your website, and whatever problems you may encounter, Tidy Design is happy to provide honest feedback and support if/when you need it.
Website Hosting Considerations & Notes
A reputable and sturdy website hosting package should form part of any digital marketing strategy. To make sure your hosting package meets these requirements, you need to be aware of what you're being offered, and how it's maintained. Important items such as website uptime, website speed, hosting support, hosting maintenance, security and the latest server tech all work together to make sure your web presence stays strong and healthy.
Here at Tidy Design we use Media Temple for website hosting. We also oversee several other servers with different providers. Media Temple are not the cheapest, but they provide a premium service we are happy to pay for. Our VPS (Virtual Private Server) ticks a lot of boxes and delivers on uptime and speed, thus helping with Google search. Not everyone will need an all-singing, all-dancing VPS. But if you can afford to avoid the free and/or cheaper shared hosting packages, then we'd suggest you do so.
End-of-Life
If a website or server is not maintained, then technology will become outdated. EOL (End-of-Life) is when software is at the end of its lifecycle, preventing users from receiving updates. EOL often leaves things vulnerable, so it is best to upgrade your website and server tech on a regular basis.
One website we recently fixed was infected with Malware, and running on PHP 5.6, this was EOL back in 2018. After removing the Malware and running some website updates, we upgraded to PHP 7.4. As this particular hosting package was shared (not with Tidy Design), the servers IP was also blacklisted – nightmare! So we notified the relevant parties about this too. Sadly, this is a common problem with cheaper / shared hosting packages, you/we have no control over your neighbours AKA other websites hosted on an IP.
Making sure your servers configuration is routinely updated and stable, is vital for core web health.
Upgrading Server Tech
Prior to moving a website from company A to company B, or upgrading server tech/software, you should always test if your website is compatible. Before you move a website, upgrade a server, or agree to switch hosting providers, please make sure your website will work. If your website is dated (a few years old) then there is a high chance it will need some attention prior to moving it.
The best approach here is to have dedicated testing areas, where you can replicate server configurations. This grants you peace of mind to freely test without having the risk of your live site being affected. Tidy Design is always happy to review and price up this kind of work, please visit our website updates page.
FREE & Shared Hosting Packages
With so many hosting companies on the web, finding the right company to host your website can seem a little daunting. The quality of your hosting will depend on your budget (what you are prepared to spend per month or annum). Cheaper hosting will always exist, but cheap does not mean better when it comes to technology, organic search and/or support.
When using cheaper hosting providers, you'll be grouped with other websites within a package. As mentioned in the EOL section above, this can cause issues such as your servers IP being blacklisted due to who is within your collection of grouped sites. This kind of trade-off needs to be considered when assigning your hosting budget.
Website Hosting Costs
If you would like Tidy Design to manage, update, and host your website then we'd be happy to help. Website hosting costs depend on a few factors such as mailboxes, overall usage and space. To give you an idea of costing; we have smaller websites spending £75 ex vat per annum for shared hosting. We also have larger websites spending £100+ ex vat per month for dedicated VPS (Virtual Private Servers). Once we have an idea of your budget and hosting requirements, we can put together a plan.
What to look for in a hosting company
We touched upon a few important factors above, these being; website uptime, website speed, hosting support, security and server tech. If you can tick these boxes then your website will deliver a good user experience and impress Google search too. It is a good idea to shop around for hosting and compare companies, costs, services and products.
Do we host websites not maintained by us?
As website hosting is not our core business, we are pretty selective with who/what we host on our servers. If you are looking to build your own website and host it somewhere, then we'd suggest going direct to a company that focuses purely on website hosting. We work very closely with all our clients and like to know what is on our servers in terms of code-quality and security. Hosting thousands of websites has never been our end-goal, we wish to build long-lasting client relationships, helping YOU succeed online.
"We developed a great partnership with Tidy Design and their dedication to our website is evident in all aspects of the site. Their attention to detail and creative approach is highly appreciated and communication skills don't go unnoticed. It has never been so simple, quick and easy to work on our hotel website!""
— The Queens Hotel Portsmouth
If you would like to find out more, please contact us today!
Website Hosting Portsmouth, Hampshire
Once we know what type of website you want or have, Tidy Design will give advice on the best hosting package for you. We work with many companies across Portsmouth and Hampshire, so if you are based on the South Coast then we'd love to hear from you too. Managing a server takes technical know-how, this is why Tidy Design has partnered up with the best website hosting providers around.
A final note; not all of the websites we design and develop are hosted on a Tidy server. Maybe you are a start-up and wish to save a little money (opting for a cheaper shared hosting package), or maybe you wish to keep everything in-house and under one roof (have your domain + hosting + emails with another company), these are things we can support, discuss and help you with.
Thank you for reading this post on website hosting. I hope it provided some value. If you have any questions or would like to discuss a fully managed hosting plan, then please get in touch today! Tidy Design is here to help.
Until next time, keep it Tidy!
Mike