14th January, 2011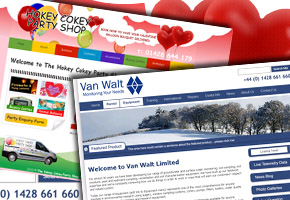 This is a short blog post that looks at how Tidy Design clients have spread out across different parts of the UK and globe! Living in an age when communication has never been easier, we feel having clients / suppliers in different locations is not a concern or issue for modern businesses.
As you will see from our web design portfolio our clients vary from sole traders to international companies with many staff on the payroll… We also have a client that lives down the road and another as far a field as New Zealand! The world is getting smaller, information and services are also getting easier to come by due to advancing technologies such as the internet, mobile devices and computers.
One part of the world that my wife and I like to visit is Haslemere, Surrey close to the borders of Hampshire and West Sussex. Haslemere is a small and quiet town in comparison to Portsmouth; it also offers some lovely country side walks which make a refreshing change to the coastal walks we often take in and around Southsea.
We have designed websites for a couple of companies based in Haslemere, Surrey. These include 'The Hokey Cokey Party Shop' on Wey Hill and 'Van Walt' an international environmental equipment supplier who is based in Grayswood Haslemere. Both clients had websites designed by Tidy Design in 2010 and request regular website updates that we complete for them, above you will see our 2011 Valentines theme for the part shop!
Whether you are a client of ours or just browsing our blog please note the following:
Website updates are extremely important for SEO (Search Engine Optimisation) and they also keep a site looking fresh! At Tidy Design we often receive enquiries based on our 'News Blog' being current and up to date… Ask yourself this question, would you buy from someone whose latest news was 6 months old?
So to conclude, if you are based in Haslemere Surrey and looking for an affordable web design, marketing and hosting company then we would love to hear from you. Throughout 2011 we would love to expand our client database and find more clients in and around the Hampshire, Surrey and West Sussex areas.
I hope you have enjoyed this blog about Website Designers in Haslemere, Surrey? Please click here to view some of our tidy London based clients or post your comments / questions below.