12th April, 2012
At Tidy Design we are fortunate to have built up an awesome client portfolio over the years… Yes, we do work very hard at this; our goal has always been to deliver a quality, affordable and friendly service to new / existing customers. To find out more about whom we work with please visit our portfolio page.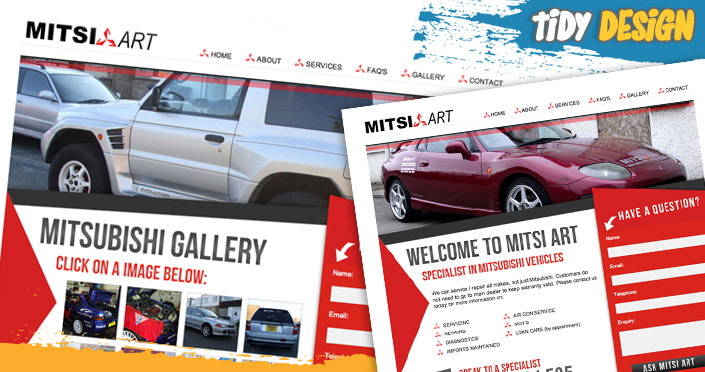 One of our newer clients is Mitsi Art Limited, a garage based in Hilsea, Portsmouth that specialise in Mitsubishi vehicles. Here is a testimonial they sent this week regarding some web design work we completed for them:
We first contacted tidy design for a quote and some ideas for a new website, and to have our hosting and domain managed by them, Mike was very helpful and informative, I then did further research into previous companies he had completed work for to get some feedback, having had a bad experience with a previous company, we were really keen to choose the right guys for the job this time who could continue to stay on top of things in the future and keep us informed on our hosting and domain etc. We choose tidy design because the feedback I received from the other companies were brilliant, and tidy designs quote was very competitive compared to the other companies we had looked at.
We had problems getting are domain transferred from our previous website designer but Mike helped us persevere until we finally had it all sorted. As we were putting our advertising budget into setting up the new website we were keen for it to be online and running as quick as possible, mike and his team worked quickly to get this done for us, with the end product exceeding our expectations.
We are getting compliments already from our customers and they are already using the enquiry link on our homepage.
Many thanks Mike and the team at tidy design
It was a great pleasure to work with Kerry at Mitsi Art Limited. Sadly, a bad web design / hosting experience accompanied with several weeks of downtime did affect this websites SERPs (Search Engine Result Pages)… Not good business when a site disappears from the web! Anyway, with a new website built and a sitemap.xml submitted to Google, I do look forward to seeing how this site competes, converts and grows over the months to come…
If you are a business based in Hilsea looking for a web designer in or around the Hilsea area then please give us a call, we would be delighted to help.