15th March, 2011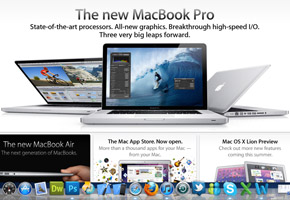 This month Tidy Design built / ordered the stunning new MacBook Pro released at the end of Feb 2011… One word to describe this portable, state-of-the-art, high-speed machine is AWESOME!
The new MacBook Pro offers us web / graphic design folk portable performance… The battery life is a massive 7 hours; it has built in Thunderbolt technology, the fastest, most versatile I/O ever in a notebook… In a nutshell this will allow you to connect to the next generation of computers and transfer data up to 20 times faster than USB 2.0!
The new MacBook Pro will also perform up to twice as fast as the previous generation; this is ideal for editing large files and working on those BIG projects! Ok, this machine may not be ideal for everyone, however if you are looking for a portable computer that simply works and can handle whatever you throw at it then the new MacBook Pro is worth considering! The investment may be a bigger one, however the boosted productivity, results and performance worth every penny!