9th November, 2010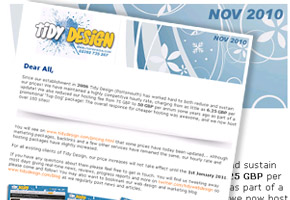 Earlier today Tidy Design updated its Pricing page, this update will affect all web design quotes / work carried out from today onwards however this will not be the case for existing clients until January 2011.
To keep everyone in the loop we have today tweeted, blogged and sent out a newsletter to all clients making them aware of these changes.
In today's world communication is made so much easier than say 50 years ago! News, updates and offers can be broadcasted using a variety of media allowing us to keep information current!
To view our Tidy Design newsletter please click here.