5th November, 2010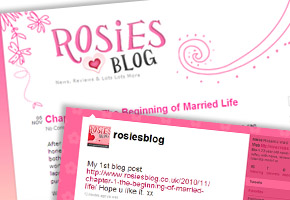 Earlier this week Rosie and I had a long chat about the importance of blogging, the various sites we have setup, internet marketing and the future of our business… If you visit mjward.co.uk you will see we already have several sites / blogs in place to help promote the different products and services we offer.
Earlier today we launched rosiesblog.co.uk, the purpose of this site to share my wife's experiences and thoughts with others; it is also a tool we aim to use to help promote future interests and ideas.
If you are serious about marketing a business on the web then a blog is one of several amazing tools you should be utilizing! Daily post are not always possible, however you should try blogging at least once a week! Search engines love original content posted on a regular basis, your reward being better search results, traffic and business!
I really have so much faith in my wife's ability to write amazing blog posts and I am looking forward to seeing how rosiesblog.co.uk is ranking in 6 months from now!