14th October, 2010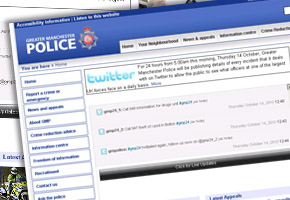 Afternoon all, just thought I would type a quick blog post before lunch about Police in Manchester who for 24 hours from 5.00am this morning, Thursday 14 October, will be publishing details of every incident! Twitter is a social networking site designed to keep its users up to date with events, real time news and offers. Manchester Police (one of the largest forces in the UK) has had the idea to reveal to the British public what police officers face on a daily basis.
With inevitable budget cuts coming our way, increased VAT, job redundancies and more depressing stuff on the horizon I predict many more public sectors / businesses will use social sites such as Twitter to release information and make appeals.
Times are changing and having the correct platform to increase awareness is so important!
The truth is, life is hard for all kinds of businesses / sectors at the moment, I don't think going on strike every 5 minutes is the answer, we need to be positive and think outside the box when it comes to promoting or getting your message across. If you would like any help marketing your business then please drop us an email, Tidy Design would be delighted to help.