10th January, 2011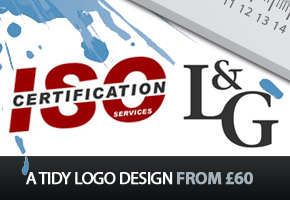 So here we are, week two of 2011 and it occurred to me that one of our tidy services 'Logo Design' is not really promoted that much on our website! Most people come to us for web design or online marketing services, then ask the question "do you do logo design?" or "can you help us with our company branding?" etc
The answer to this is yes! Tidy Design would be delighted to help with any logo or graphic design work you may require. My degree at Portsmouth University was 'Communication Design', three years of studying a brands communication with its customers through a variety of media. This degree allowed me to study and analyse what it is to create and develop a brand, things we may take for granted such as colours, font, consistency and image are all vital parts of your logo!
If you are looking for a logo designer then please do not hesitate to contact us. On the right we have previewed two of our more recent logo designs, ISO Certification Services and L&G (Large and Gibson Solicitors), both of these we took on after starting re-designs of both websites.
And finally, if you are looking to design your own logo then I have listed X5 logo design tips and tricks for you to take away. Remember, even great ideas can be ruined by not thinking about simple things!
1. Keep your logo design simple, less is often more when it comes to design.
2. A logo design needs to look professional and elegant, avoid clip art like the plague.
3. Use your logo to capture / portray a business identity… Make this unique!
4. Keep your brand consistent by using the same logo / colours on all marketing material.
5. Make sure a logo is resizable, if you make it larger or smaller you want to retain its detail.
For more inforation on logo designs and brand development please contact us! And on that note, if you are starting up a new business then please visit our 'Startup Company Website' package, this designed to save new companies lots of money!