17th July, 2011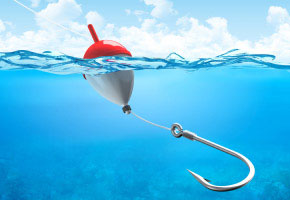 Today I thought I would write a short blog post about link bait… So, what is link bait and why should you be thinking about link baiting?
In a nutshell, link bait is content within a website that is created specifically for the purposes of link building! This content, website application, web page, micro-site, or what ever you decide to create, will need to attract attention and encourage other websites, blogs, and social media users to link to it.
The more links this content generates for you the better! Hence the name, link bait!
X10 Link baiting techniques
Ok, naturally attracting backlinks is not going to be easy! Here are ten tidy ideas fuelled by early morning coffee that may help you create your own link bait:
1. Content needs to be written and presented well
2. Offer honest guidance or advice from an expert (you!)
3. Keep content unique and don't mirror the masses
4. Be controversial, why not if you can back it up with stats!
5. Make content extremely useful for readers, they need this page to exist!
6. Try making some content or photos funny
7. Give something away (people love free stuff!)
8. Try being the first to research / document something in your sector
9. Interview someone or yourself… Make it personal
10. Give your link bait a unique identity / slogan to help promote it
The idea here is to become 'viral', seeing your information being passed on by word of mouth or through social media to the masses! If Google see's lots of pages promoting X then Google will take a long hard look at X, the likely result being, X ranking very high in its SERPs (Search Engine Result Pages)… Good job!
At Tidy Design we have been working hard to develop and expand our own 'News Blog' plus several other sites we setup to promote our core business MJWARD UK LTD… For example, this blog offers FREE stock photography, social icon sets, web design tutorials and more!
Remember to think outside the box! Link baiting does not need to be a single webpage, it could well be an entire website, blog or mobile application that you have setup to help market your own brand! The trick here is to offer quality and quantity, don't rely on one decent article or expect people to find it without some assistance from your own social media / SEO campaigns.
The web is one competitive place, and without lots of hard work, a continual investment in SEO and market trends, the chances are your site may not get the coverage you desire!
If you would like to find out more about link bait or discuss with us your Link baiting ideas / techniques then please send us an email.