7th July, 2011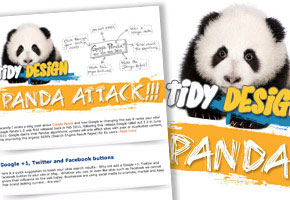 Yesterday morning I allocated some time to create and send a mail shot to our awesome Tidy Design clients.
As a company we feel it is important to keep connected and build business relationships with ALL our customers!
Lets face it, in today's economic climate it is easy to get caught up in the moment, work long hours and focusing on the task at hand, maybe not seeing the bigger picture!
At Tidy Design we never want to be in this position, I mean 'not have time' for other businesses we work with, the ones that maybe don't email, invest in SEO or request updates.
Ok, you could argue 'why don't we just focus on our bigger clients', however we know what it is like to start out and develop a business; it takes time and support from family, friends and even suppliers!
Following yesterdays email to our client database, it was nice to receive replies from people we have not heard from in a while… Several companies have now requested +1 buttons and those who didn't, well they have been reminded that Tidy Design is here to help as and when they require!