4th February, 2011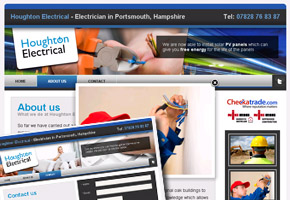 Earlier today Tidy Design received a lovely testimonial regarding a new site we designed and launched in January 2011. This site was the first of our 'Startup Company Website' package and we feel the overall feedback / result is awesome!
Although we really enjoy designing bespoke sites for fun businesses with fun products such as say Clarence Pier or the Hokey Cokey Party Shop, not every site we design is aimed at one particular sector or trade.
If you visit our portfolio page you will see a variation of different styles and companies, ranging from international businesses to sole traders.
At the end of the day, we just love designing tidy sites!
I had to send this to thank you for your outstanding service I have received since coming to Tidy Design. I found your start up website advertisement on line, and after being messed about by a few other website companies, Tidy Design were a breathe of fresh air.
Firstly you advised the easiest way to get away from the previous company who we causing all sorts of problems, and took the web pages away from them and secured for me the other domains to protect me from any competition around my site (ie: .com) in order to help in the future growth of the company.
Secondly, you listened to what I was trying to achieve and then helped me to pursue the look that I wanted. You spent time getting to know the company and where the majority of my work came from and help focus the site to get the most response. Due to business being busy, you kept the pressure on me to ensure my site was launched as quickly as possible, as I can get easily distracted, which meant there was only a small time between taking over the site and the re-launch of the new web site. Tidy Design also provided priceless knowledge in the key words to use, in order to help with the ranking of my site in relation to Google listings, which should make my site a lot easier to find.
When it came to setting up the e-mail both on the laptop and the phone, the information I received made it very easy to add the e-mail, which usually would take me ages to get my head around, but within 5 minutes it was set up and I was sending test e-mails to myself. That's record timing for me, and I was very impressed.
The site itself has provided an instant help, not only in generating additional business, but ensuring my current customers have an additional method of contact. It's easy to use and looks amazing. Everything is very clean and crisp and feels very modern and with the times. It's also got a facility to allow customers to follow me on twitter, which I'll have to get used to using. All in all Mike and Rosie haven't just made a website, the have tried to drag me out of the dark ages, and to use all of the modern technology to help push my business on into the 21st century. They bring so much more than just web design with them, they are both positive and full of energy and vigour that they give you another push to drive the business to the next level.
If your not already with Tidy Design then I strongly recommend giving them a call, and see for yourself first hand the amazing work they are doing and feel the energy the generate for yourself and the your business.
Thanks again Tidy Design, here's to a great future working together!!
If you are thinking about getting a new website then why not give us a call or email, the team at Tidy Design would love to hear from you… Have a great weekend!