20th September, 2010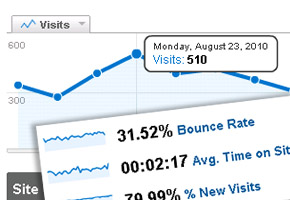 If you run a business then the chances are you have a website to promote it? (If not then please give us a call or email, we would be delighted to help.) Having a nice website is one thing, however if no body can find your website then what should you do? Brand awareness is so important for businesses of all sizes; we all need to get our name out there, to satisfy clients so they too shout out our name! One way of achieving this is to obtain a great web presence, imagine the knock on effect of coming top of Google, Yahoo or Bing for search terms related to your business!
So what can you do to boost your websites rankings? Step one would be to identify the keywords or key phrases you wish to target… Why spend your hard earned money optimising a website and investing in SEO (Search Engine Optimisation) for keywords that are not searched for each month! Find out what people are looking for (related to your business that is) and build your website and marketing campaign around them.
Think about including these keywords in the content you provide your web designer; try to incorporate key phrases into the titles and headings of your webpage… If you would like to find out more about our Tidy Design SEO packages, see examples of past campaigns, testimonials etc then please contact us.