20th March, 2015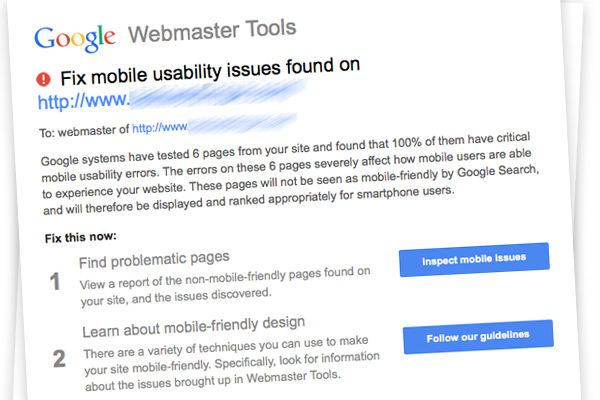 You may have received a notification from Google, regarding the requirements to update your web site so that it is compliant and compatible with the ubiquitous mobile device.
Why is this happening? Well, most of us (if not all) have a smart phone, maybe a tablet device too. Using a website that has the additional code to allow mobile functionality now becomes a pleasure, rather than a chore.
Google have some key details with what it means for a website to be mobile compliant Mobile Usability if you would like further reading, but in summary this is:
A defined viewing area – this means that whether you're using an older generation smart phone, a brand-new cutting-edge tablet device or a computer system with a high-resolution display, the website dynamically adjusts to fit (within reason, of course) the display of the device.
Content that flows – if you have browsed a website on a mobile device and had to move the screen around the read the contents, a mobile friendly site resolves these issues.
Fonts that scale – for easier reading on small screens.
Easy-to-touch-elements – buttons that are well-spaced from other touch elements
Visual design and motion – driven by mobile-friendly technology.
What we have here is Google reminding us, the designers and builders of your site that it isn't 'mobile friendly' and a terse warning that the web-pages will not rank well in a mobile search.
Reading further into this, we expect a new mobile-site ranking algorithm to soon launch.
As you may expect, we are receiving a reasonable volume of the Google sent email and from both new and existing customers. If you would like us to implement mobile functionality with your site, please do not hesitate to contact us.
Kind regards,
Jonathan Tawn