22nd December, 2010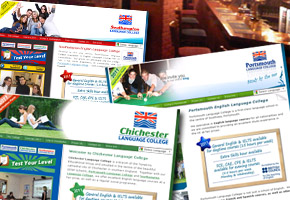 Yesterday evening I went out for a few beers with Mr David Tompkins, owner of Portsmouth, Southampton and Chichester Language Colleges. Over the years our business relationship has grown from strength to strength, his family even attended our wedding earlier this year!
As a web design company we are very fortunate to meet face to face with other business owners, ranging from sole traders to international companies with many staff on the payroll! You could in fact say it is the ultimate business networking event!
Anyway, following a late but very enjoyable evening reflecting on business and the year past, David has today emailed Tidy Design a lovely testimonial for us to share with you on our blog.
"I approached Tidy Design back in April 2007 because I needed a 10-page website for the language school I was setting up. Despite other offers, I chose Tidy Design because of their freshness and reasonable price. I have not been disappointed. Mike and his team have provided an invaluable service to me as my college has grown. We now have 3 branches and 3 websites – all with at least 25 pages per site. Adding on features to the sites, such as a blog, course calculator and level test has been done easily and cost-effectively. Mike and I have built up a solid business friendship over the last 3 and a half years and I am convinced that his company and the way it has designed and marketed my sites have played a major role in the growth of the Tompkins Educational Group."
Receiving this email on the last full working day for Tidy Design in 2010 is awesome! It really does remind me exactly how great being in business is! If you are thinking about setting up a new business in 2011 then please let us know, we would be delighted to help you with any web design / online marketing stuff!