19th October, 2011
Are you looking for a creative company based in Portsmouth, Hampshire to design a bespoke newsletter for you or your business? Newsletters are a great way to communicate with your clients and suppliers, keeping people updated on what's new with you and your company.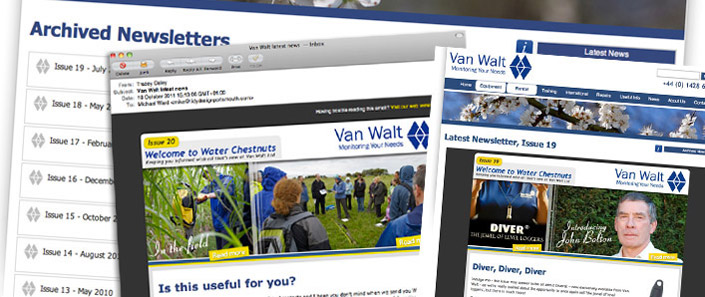 Over the years Tidy Design has designed and sent many of its own newsletters, as well as creating fun and corporate newsletter templates for businesses we work with… Here is a testimonial we received today from Tracey at Van Walt Limited regarding one of our bespoke newsletter designs:
When communicating with customers you want to be engaging by exchanging information in a way that develops the brand experience, evokes positive emotions and sums up the essence of who/what your business is about – it's not always easy but newsletters are a good tool if they are interesting, timely and well designed.
Tidy Design recently updated the look and feel of our regular customer newsletter – Water Chestnuts. The innovative facelift created a look that was professional, interesting and fresh. In addition the new design lifted our response rate and the number of customer enquiries received. Huge thanks to the Tidy team for their hard work and originality in creating something that really works.
Visit Water Chestnut
When studying my Communication Design degree at the University of Portsmouth we researched many different and innovative ways to communicate with customers, be it the less is more approach, a shock factor or personal approach, it is all about building long lasting (memorable) relationships with your clients.
A tidy newsletter or mail shot will get your message across swiftly and effectively. The design should be eye-catching and it's content / message not rushed… To find out more about our bespoke email designs and newsletter templates why not contact us, we would love to hear from you.