28th February, 2011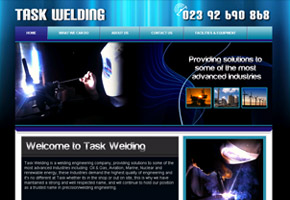 About four weeks ago Tidy Design received the green light to re-design a website for Task Welding, a local company established back in 1979! We have created a small bespoke brochure site that informs its readers about the services and products offered by Task Welding. If you are looking for a welding company in the Portsmouth, Hampshire then why not check out http://www.taskweldinguk.com/ for more details.
It is hard to believe that March 2011 is fast approaching and the first quarter of 2011 will be over before we know it! At Tidy Design we are so grateful for the new and repeat business we receive week in week out, we are very fortunate to be busy during such tough economic times.
A massive thank you to Task Welding for choosing Tidy Design, it was great getting to know you and developing the new site… Let's hope it generates lots of new business and we look forward to working with you for many years to come!