12th October, 2010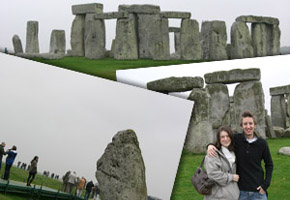 Over the weekend Tidy Design visited several interesting sites such as Stonehenge, Langford Lakes and Old Sarum. The weekend was a needed escape from work emails, business, paperwork and more… As some of you will know last week was a difficult time for Rosie and me, sadly events out of our control happened, and we had to deal with them!
So this week Tidy Design has found its forwards and upwards momentum! Yesterday was a very productive day; we made great progress on several web design and marketing projects.
Rosie jumped for joy as one of the sites we market 'The Fitted Bedroom Centre' reached page one of Google for 'fitted bedroom furniture' after several months of intense tidy SEO! It is always an amazing feeling when sites go from pages thirty and beyond to page one of Google's organic search results… It is not only good for the client, word of mouth is a great marketing tool, one that generates us business!
Finally, I would like to say a big thank you to all clients, friends and family that sent kind wishes and support last week. We are lucky to have you, and with this in mind we are working our socks off to make sure all web design projects / marketing campaigns etc get back on track this week. Keep the coffee coming!