Saturday, March 17th, 2012
Are you looking for a leaflet designer based in Portsmouth, Hampshire? If so, maybe Tidy Design can help. Over the years we have designed many leaflets, flyers, logos, business cards and posters for small and large businesses across the south, our clients have even included the NHS!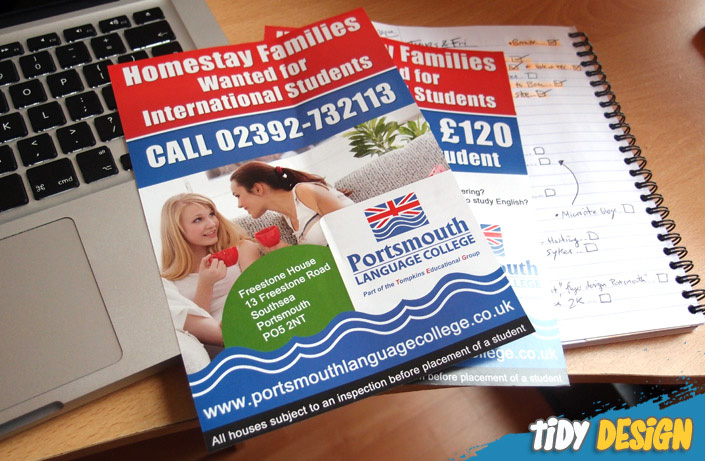 Although print ready design is not our core business, earlier this month Tidy was commissioned to design some A5 flyers for Portsmouth, Southampton and Chichester Language Colleges… It was pretty cool when the above arrived through our door this week; it was also a nice change to design for print when most days we design for web.
If you are looking for a graphic design company in Hampshire, maybe some feedback / ideas on a corporate identity, company branding or leaflet design, why not email us your spec! Tidy Design is a highly motivated bunch of creative individuals based in Southsea, Portsmouth with a passion for business and all things innovative.
Approximate cost for a leaflet design: For a bespoke A5 flyer design, double sided, delivered as a print ready PDF file for you to send to the printer we estimate X2 hours work at £30 per hour costing £60.00.
If you have any questions or would like to find out more about using Tidy Design for any graphic design or web work then why not browse through our website or contact us today… Until next time, keep it tidy!